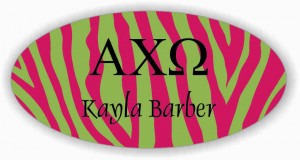 Most sorority name tags are boring, there I said it.
The same old engraved name tag with greek lettering, or even worse just the persons name on the name tag. Some chapters even resort to home made name tag which can be cute however they are not very durable. How about a cute jazzy color sorority name tag – sounds good doesn't it.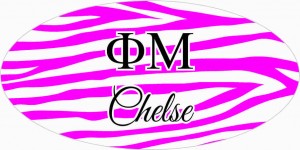 The latest craze is animal print name tags for sorority chapters. These badges are digitally imprinted with an animal print of your choice in full color, and of course the sorority members name is also imprinted on the tag. Very cute unique and definitely not boring! We finish these name tags with a magnetic attachment which allows the name tag to adhere to your clothing without punching a hole in your shirt or dress. The badge is a durable 1/16 inch thick plastic which will give you several years which adds to the value of the name tag.
The animal print sorority name tags are quite affordable so a chapter could purchase several versions for the chapter members. Each fully customizable in color shape to fit a theme or special event.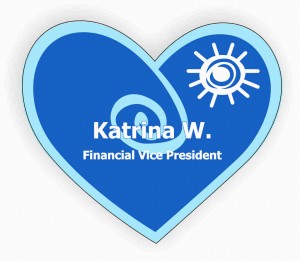 If you really want to stretch your  imagination our custom shape name tags are extremely cool. 5 pointed crowns, Key shaped name tags, Anchors, Bears, Owls if you can think up the custom shape we can cut it and print it for you. All custom shaped name tags are composed of a durable plastic and can be either engraved or digitally imprinted with your unique graphic.
The final great thing about these unique name tags is you do not have to purchase these badges in a large quantity. You may order as few as one and production time is just 1 to 2 days for most orders. We keep all designs on file so filling your order year to year is a snap.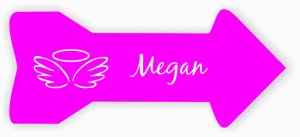 Name-tags is your source for cute unique sorority name tags.