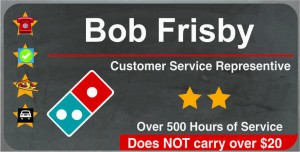 Shipping of products can some times be very confusing. Most companies that you purchase things from quite frankly take too long to process and ship orders. A company that ships a package UPS ground can have that package in your hands in 6 working days or less, depending upon your location. So when a company tells you two weeks….well maybe they don't work as quickly as we do at name-tags.net.
Here are some important things to remember about shipping. A working day is Monday thru Friday, so do not count the weekend as working days. Also anytime you have something shipped around a holiday, delays invariably always occur, so add a day or two. Also take into account whether you are shipping to a business or residence. Businesses always receive their packages prior to residential delivery. Remember that you need to be at home when the big brown truck arrives. Sometimes the driver will just leave a note and not your package if you are away from home. This may delay your order – and who needs that aggravation.
All domestically shipped UPS packages have a guaranteed delivery time. What this means is that UPS will refund your shipping charges if your package is late, that is all. So if you have an exact in-hand date for your package I would make sure it arrives a day prior to the day you actually need the items. Better to pay a bit more and be safe by being early, than to miss the boat because you were trying to save money. At name-tags.net we guarantee we will give your package to UPS and ship it to arrive on time – but that is all we can do. We are both at the mercy of UPS. Now they are very good and 99.9% of our packages arrive on time – but can you afford to take the risk or being late? People and companies are imperfect and mistakes happen, so keep that in mind when ordering your name tags.

The postal service is an option but their guarantees are few and very general. FedEx is awesome but face the same battles that UPS encounters. Our advice is to use UPS or FedEx. With those two companies you do have the option of Saturday delivery at an additional fee.
Most orders we produce are shipped our in 1 to 2 days via UPS so we are very quick on our end. We work with each customer to determine the time it will take to have the product delivered, then  we chose the shipping method to insure the order arrives on time – every time.
So when you have a need for name tags and name badges give us a call we will help you every step of the way to insure on time delivery.